We, like the rest of the world, cannot get enough of all the style that Melania Trump served in Riyadh during the just concluded Riyadh summit where King Abdulaziz hosted the United States first family – Donald Trump, Melania Trump, his wife and his daughter and her husband, Ivanka Trump and Jared Kushner.
The star of the trip so far, no doubt, has been Melania who stunned in her black Stella McCartney jumpsuit that a Saudi lady immediately tweeted looks like her own Abaya, complete with the wide gold Saint Laurent belt (although, the lady's was a rose gold one). She also made statements in her millennial pink cape-sleeved dress and that white structured suit paired with the barely-noticeably sheer black top. Let's just say Melania stole the show. And for that, we are proud of her.
However, we cannot turn a blind eye to Ivanka's similarly stunning Kingdom style which in many ways mimicked her stepmother's.
We'll let the photos do the talking:
Leaving America
Ivanka Trump left America wearing this floral sheath form-fitting dress. Not too far off from Melania who left town in this form-fitting white Max Mara and red Herve Pierre pair:
Riyadhi Style
Stepping off the Air Force One in the King Fahd Airport, Saudi, the two Trump women had switched into more traditional-looking attires in terms of silhouette and tones:
Arriving Saudi in a navy floral print long-sleeved dress.
Hand-in-hand with her Mahram, Jared Kushner. It appears she chose to stick with her Gianvitto Rossi nude pumps all through the trip as you'll see in other looks.
Melania on the other hand famously wore her black Stella McCartney jumpsuit with the wide Saint Laurent belt.
Meeting with the women in Saudi
Both Melania and Ivanka opted for structured looks when they were to hold meetings on the sidelines of the Summit.
Melania's white and black ensemble managed to leave it all to the imagination while Ivanka's power blue three-piece has already got fashionistas putting together how-to-get it looks from Escada
Button-down with pocket detailing shirt and a structured yet loose suit and the slim-fitted pants – Get the complete look from ESCADA Ivanka Trump. Well, complete except for the same nude Gianvito Rossi pumps she still stuck with for this look.
Evening reception look
It's a shame no one quite captured Ivanka in her stand-out shimmery evening dress with the back slit which she wore at the Murraba Palace while her stepmother rocked her pink cape-sleeved dress.
Ivanka did tweet a manageable photo: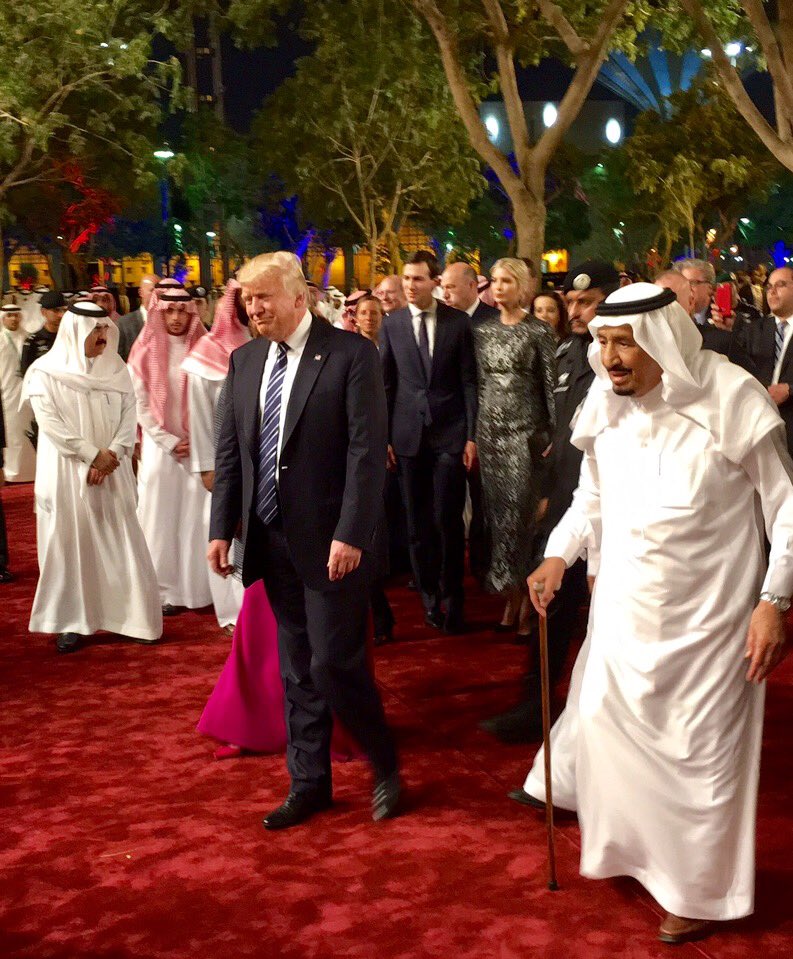 And a video too (that's where you notice the slit):
.@POTUS @realDonaldTrump arrives w/ @FLOTUS Melania at Murabba Palace, escorted by King Salman for a great tour. #POTUSAbroad #قمة_الرياض pic.twitter.com/y7nBcd7qvn

— Dan Scavino Jr. (@Scavino45) May 20, 2017