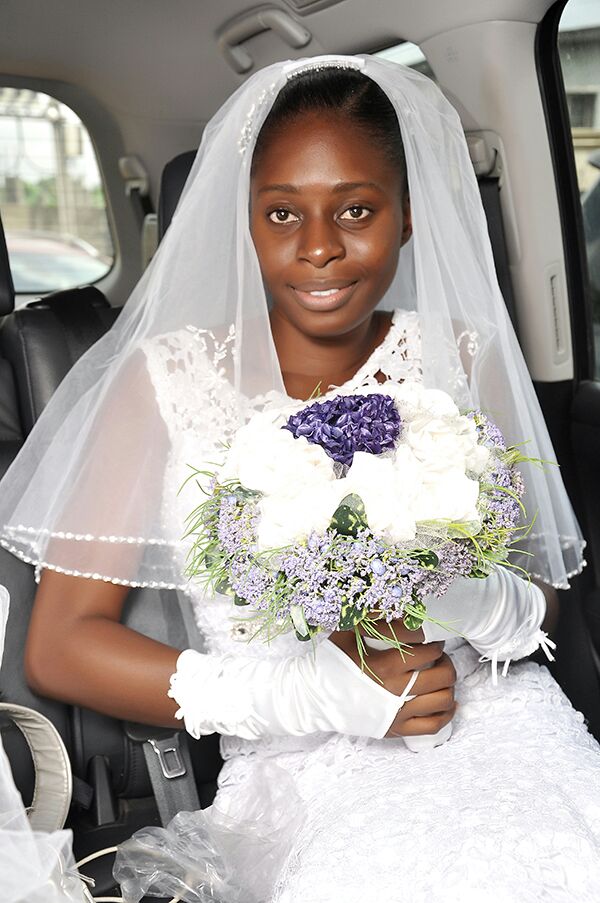 Remember the black and beautiful supposed "Ghanaian" bride who trended earlier in the week for wearing her a natural look on her wedding day?
Well, it has been discovered that Bisola Umoren is not just a Nigerian, but a Lagos State born bride who shook social media with her daring no-make-up wedding looks.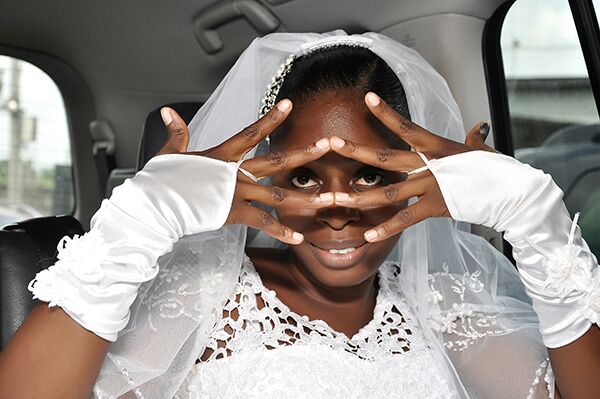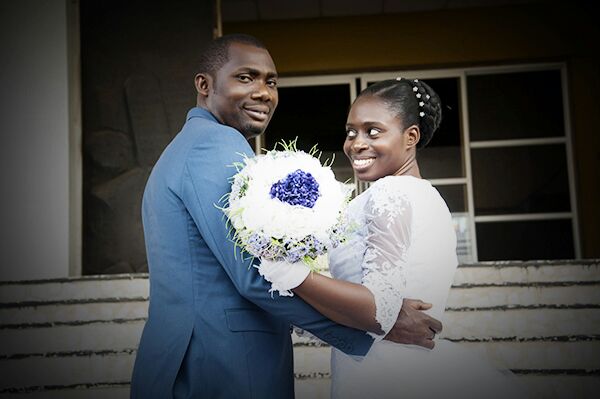 Speaking on the reasons for her decision, she said: "When my husband first met me, I had not had my bath, but he saw and fell in love with my natural look. My hair was due, my face looked way older, I was even tying nylon on my hair when he came to me on that fateful morning, yet he loved what he saw. So, who am I supposed to be making all that up for on my wedding day?
So, that was it. I think God just decided to crown me with early morning beauty the day I wedded.
Interestingly, the photographer and the make-up person, were insisting that I should touch up my face a little but I blatantly refused. In the process, a marriage committee member overheard us and warned that make-up is not allowed inside the Church; Christ Apostolic Church, Surulere.
Secondly, For a good start, I'm not the make-up type. I don't even wear ear-rings or like to drop my hair. I don't like any form of inconvenience or discomfort on my face, my neck and entire body.
It is not a church thing, it is just me and my personal decision. I can do makeup if I want to. In fact, during my engagement in April, I was so pressured to have makeup on. They convinced me that it was going to be nude. I agreed and went for it. Lo and behold, when they were done, I hated myself because I looked so unlike my usual self. I looked darker and older. The whole engagement pictures were nothing to write home about.
"
On why people concluded that she is Ghanaian: "Well, I can't really say. My Facebook page has people around the world visiting and reading my stories. I guess one particular Ghanaian guy, picked it up also and posted on his twitter page, asking if ladies can actually do what I did by wearing a natural look on a wedding day. His post also went viral and I guess, that was where bloggers picked it from and assumed that I am a Ghanaian. It was very controversial as I kept receiving all kinds of calls, some condemning me, some applauding, some questioning, I was just pissed at a point."
Her love story: We met last year, December 16, 2015 after I was robbed besides Abiola Garden, Lagos at about 9am. The robbery was a horrible experience; I lost my Blackberry phone, tab and some money. Thankfully, I wasn't raped but sustained minor injuries. A close friend then volunteered to come help me massage my leg when he heard what happened to me.
When he was coming that morning, he came with his long time friend (who is now my husband). When I first saw them, I almost refused to open the door, because it was quite early and I wasn't expecting two visitors (one stranger at that time).
Well, I later had to open the door and that was it. After the first visit, he (my husband), came back alone on December 26, to see me and that was how our relationship started.
Few weeks later, he proposed because he was scared that if he wasted more time, another man would take over. (laughs).
We had our court registry in February 2016, barely three months after we met.
First attraction: "Well, I like his height. I am not on the tall side, so he compliments me. I like tall guys; nothing less than 6 ft. He is also chubby. He is very caring. He showered me with his love and care that I had no choice but to succumb. But his tribe was almost a barrier for us; he is from Akwa-Ibom while I'm from Lagos State."
See more photos from her wedding below…