Emerge Alara, Alára's search for the brightest African creative talent is here. The retail outlet has released its six finalists giving them the opportunity to present a retail collection and exhibition respectively at ALARA Lagos.
Here are the Fashion Design and Fashion Media creatives:
Ladunni Lambo: Ladunni Lambo Women's Wear
The designer's foray into the fashion world began as a student at Nottingham Trent University, where she studied fashion design. After graduating, she returned back home to Nigeria, where she presented her first collection as part of the Fashion Focus contest at Lagos Fashion and Design Week in 2013. Following her successful debut, Lambo joined Frankie & Co. as the head designer, ultimately launching her eponymous line in 2016. Her first official collection, A Wife for Nana, told the story of a young woman's struggle to accept her arranged marriage to a village chief, and each subsequent collection play to the pulls of family, identity, tradition, and modernity in an increasingly polarized world. As the brand grows, Ladunni will continue to push boundaries in creativity, style, and innovation, sharing her stories and beliefs through each collection. Her designs have since been worn by author Chimamanda Ngozi Adichie, who is a champion for Nigerian-born brands.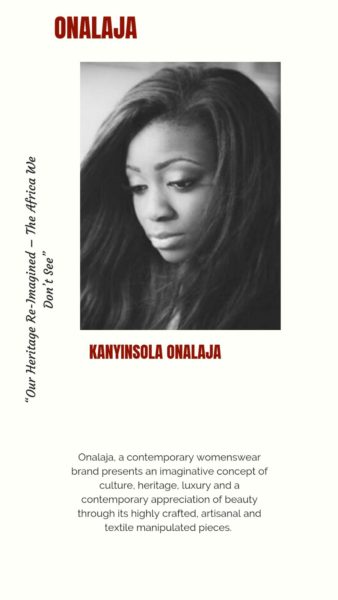 Kayinsola Onalaja: Onalaja Women's Wear
Onalaja is a contemporary womenswear brand, known for its high craft experimentalism. It was founded by Kanyinsola Onalaja following her graduation from Istituto Marangoni, Accademia di Costume E Moda. She has worked with brands such as Christopher Kane and Giles Deacon Couture. Onalaja presents an imaginative concept of culture, heritage, luxury and a contemporary appreciation of beauty through its highly crafted, artisanal and textile manipulated pieces. Additionally to the Brands DNA, an underlying concept within all Onalaja collections always remains "Our Heritage Re-Imagined – The Africa We Don't See", re-imagining heritage interpretation and the language of tradition. Onalaja aims to create a form of communication and interaction that fuses Onalaja's Nigerian heritage and flair for the artisanal craftsmanship, with Italian design aesthetics and the formality of British fashion.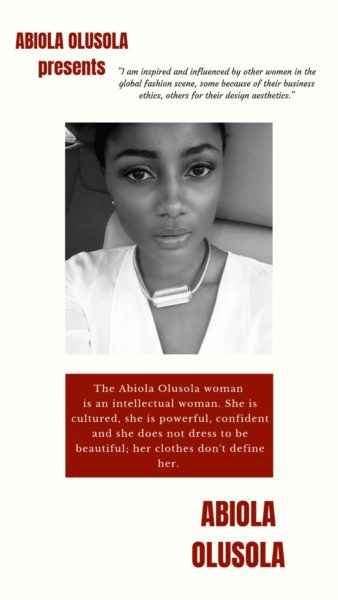 Abiola Olusola: Abiola Olusola Women's Wear
Abiola A. Olusola is a contemporary womenswear brand inspired by African women, particularly Yoruba women. I try to re-imagine the style and lifestyle of modern Yoruba women between the 50's and 70's and translate their style to today's aesthetic. The Abiola Olusola woman is an intellectual woman. She is cultured, she is powerful, confident and she does not dress to be beautiful; her clothes don't define her. Hence, her style is effortless and there is an ease to how she carries herself. She favours comfort and functionality with a hint of sensuality. My approach to design is minimalist. I create simple and chic clothes that I can wear. For me, it is about being comfortable but looking put together. I try not to over design and I use simple shapes, clean lines, subtle colours, while playing around with texture and print. I am inspired and influenced by other women in the global fashion scene, some because of their business ethics, others for their design aesthetics. Such women include Phoebe Philo for Celine, Victoria Beckham, Stella McCartney, Mary-Kate and Ashley Olsen for The Row.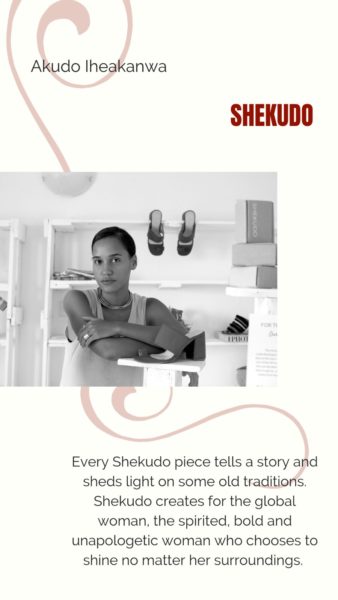 Akudo Iheakanwa: Shekudo Footwear
Shekudo is a socially responsible accessories label manufactured in Lagos, Nigeria. The brand is shedding light on some of the age-old traditions and often overlooked artisans. Every piece has a story, and so too does each individual working on our products. We create for the global woman, the spirited, bold and unapologetic woman who chooses to shine no matter her surroundings. The Shekudo woman is proud to adorn herself with beautiful things, especially those with a rich and meaningful origin. Shekudo was founded by Nigerian-Australian born Akudo Iheakanwa who felt the need to contribute to the manufacturing sector in Nigeria in a sustainable way, with a focus on tradition, technique, and storytelling.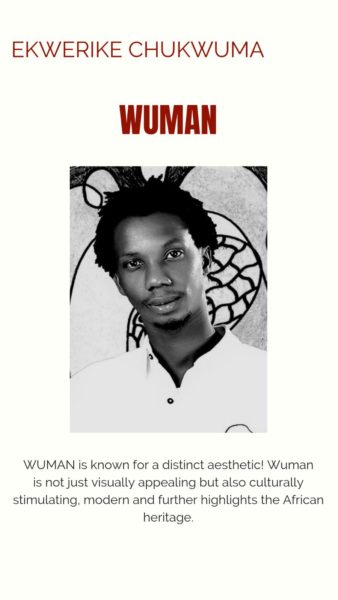 Ekwerike Chukwuma: WUMAN Apparel
Ekwerike is a Nigerian fashion artist who strives to tell stories through his art and garments. Inspired by the female anatomy, he founded and creatively directs the fashion brand-WUMAN; known for a distinct aesthetic. Chukwuma sees fashion and art to exist in a sort of feto-maternal relationship and draws from this to create garments that are not just visually appealing but also culturally stimulating, modern and further highlights his African heritage.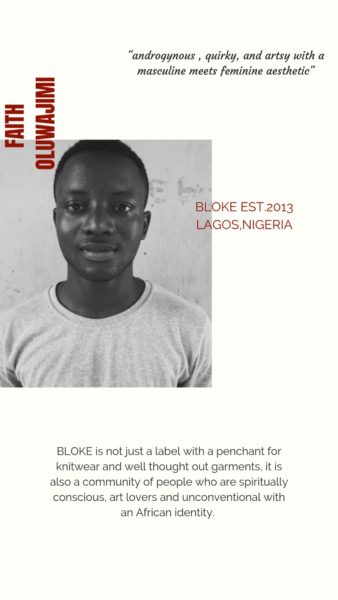 Faith Oluwajimi: BLOKE Apparel
BLOKE is under the creative direction of self-taught 22 years old designer Faith Oluwajimi. BLOKE is not just a label with a penchant for knitwear and well thought out garments, it is also a community of people who are spiritually conscious, art lovers and unconventional with an African identity. BLOKE was established as an independent brand in 2013 and is based in Lagos, Nigeria. BLOKE is an androgynous label that designs well thought out garments that are quirky, and artsy with a masculine meets feminine aesthetic. It is a brand which continually explores the possibilities for the creation of garments, knitted and beyond. A non-follower of trends which rather takes pride in setting trends. The brand has gathered a strong following from notable fashion editors such as Elisa Zaccanti and Sara Maino and has also been featured in international press such as Vogue Italia, Business of Fashion, Pansy Mag, L'Officiel Italia, WGSN, Hunger Magazine, Native Mag amongst many others. The Brand was recently chosen as one of the 200 Fashion Brands changing Fashion globally by Vogue Talents and Vogue Italia.