The MTV Video Music Awards happened exactly a week ago today – in today's digital terms, that's exactly a lifetime ago – but because we didn't want what we are about to say to get buried under all that cardio-B-class white suit (just because we do not know whether to call it a dress or a jumpsuit) and all the other news that Swiftly passed by, we chose to let things simmer down.
Yet anyone who thought for a minute that we weren't paying attention to 21-year-old, Alessia Cara at the 2017 VMAs clearly doesn't know what we are about #PrepareToBeSCARredForLife.
Her performance, IOO, should have been the only thing anyone talked about after the show because it was all that and more – it was everything.
When she first appeared on stage in a shiny black bob and the most scarlet of all scarlet dresses, (not to push this #SCAR theme too far, but) we thought we were about to be scarred for life.
The young lady has been an advocate for loving oneself without need for all the extra and false glam that the entertainment industry often shoves down young people's throats. Think of what Alicia Keys has been doing with the bare face and comfy-in-my-own-skin outfits but imagine she were 21, curvier and named Alessia and not Alicia AND has a hit single titled Scars to Your Beautiful (and a whole album full of songs preaching self-empowerment).
The Canadian singer/songwriter got on stage and started performing (you guessed it) Scars to Your Beautiful wearing an uncharacteristic red figure-hugging dress and a shiny black bowl cut wig but was quickly undressed by back-up dancers masked head to toe in black patent leather.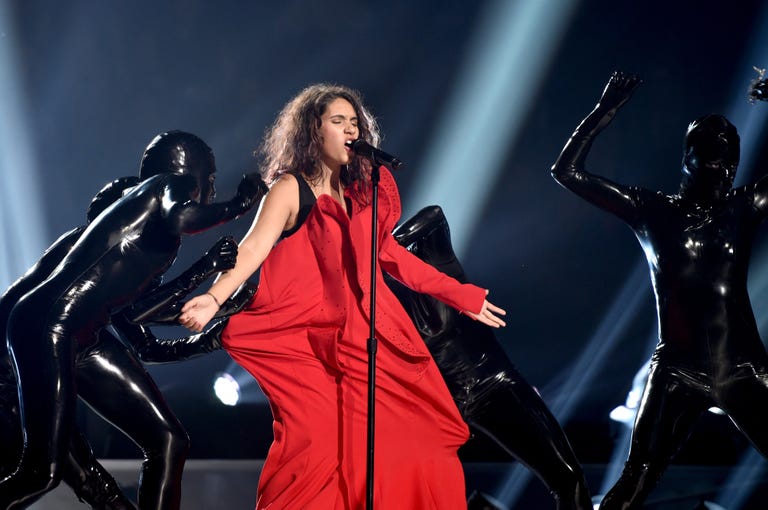 Once they were done (they wiped all of her make-up too), we were left with the Alessia that we knew – a tank top and black skinny jeans wearing Alessia – as she delivered the most amazing performance of Scars to Your Beautiful ever.
Watch it below:
Not only was it entertaining, it very aptly, delivered the song's message of acceptance beyond surface beauty and body positivity. It was a performance that reminded us o how deserving she is of the nominations she got for Video of the Year, Best Fight Against the System and Best Direction.
Last year, Alessia told Glamour that she was not going to perform that song ever wearing make-up (hence, our complete shock when she first got on stage). In her words: "we decided that every performance I do of "Scars to Your Beautiful," I am not going to be wearing any makeup, because how could I be preaching a song about being yourself and being beautiful and perfect the way you are and have a full face of makeup?"
And it appears it is all worth it. Financially, we mean (because of course the strong message is always worth it). Alessia Cara's Scars To Your Beautiful rose 181 percent after the August 27th performance, sparking sizeable gains from digital downloads for the lovely young lady – literally overnight, according to Nielson Music.
The world, sure can change its heart.